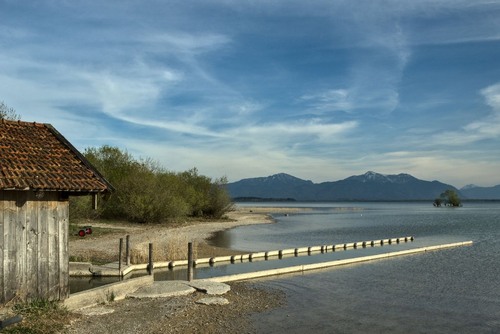 Schützinger Bucht is a small inlet on the Eastern shore of the Chieming Lake in Germany. The space has been preserved as a nature reserve and consists of 6 small coves that are particularly attractive in summer due to the various birds, water lilies, and other flora.

The area offers countless opportunities for strolls and spotting fascinating flora and fauna including swans, seals, and terns as well as for fishing and swimming. There's also a long beach ideal for a picnic and a number of wooden bridges that are a welcome and cool change of scenery from the open lake. However, the reserve is particularly beautiful at sunrise when the sky turns into a mix of pink and purple shades before it's still cool from the night before. There are also scenic pathways bordered by wild flowers and trees to enjoy the peaceful atmosphere of the area in the silence.
🌦 Información meteorológica
Obtenga información meteorológica y mucho más desde la aplicación. ¡Descárgalo gratis!
🚕 ¿Cómo llegar allá?
Obtén información de rutas (en coche, a pie, en transporte público, etc), y mucho más, desde la app. ¡Descárgalo gratis!