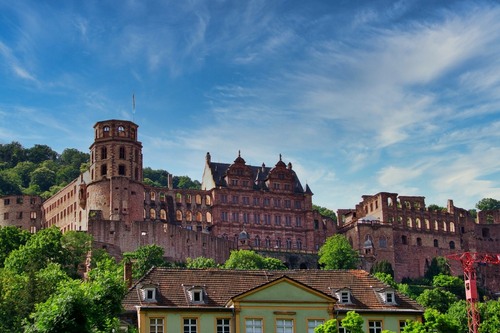 TOP
Schloss Heidelberg is a castle located in the city of Heidelberg, Germany. It is a popular tourist spot and a must-see while visiting the south of Germany. This 13th century castle complex including ruins of different parts of the castle and is made up of a number of palaces, gardens, and courtyards. The castle is situated on a hill overlooking the city, giving visitors a great view of the Neckar river and the city. Inside the castle, visitors can explore the many corridors, galleries, and terraces; visit the castle garden and courtyard; and more! The castle also houses a museum and library where you can learn more about the flamboyant rulers of the past. Visitors can take a step back in time and allow their imagination to run wild while touring the castle by day or night.
🌦 Información meteorológica
Obtenga información meteorológica y mucho más desde la aplicación. ¡Descárgalo gratis!
🚕 ¿Cómo llegar allá?
Obtén información de rutas (en coche, a pie, en transporte público, etc), y mucho más, desde la app. ¡Descárgalo gratis!