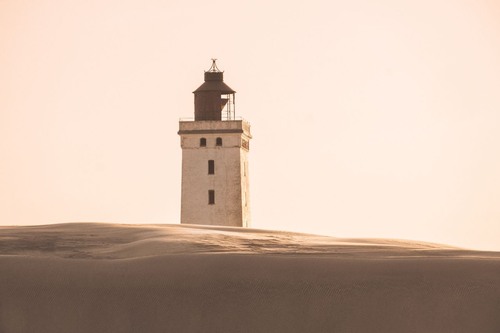 TOP
Rubjerg Knude Fyr Lighthouse is a historic and stunning malachite-laced structure in the Løkken area of Denmark's North Sea coast. Once a vital part of maritime navigation, the white-and-green lighthouse is now abandoned but still stands as a reminder of the past. All that remains is the tower, but it is still an unforgettable sight. The lighthouse has been severely battered by constant winds and shifting sands, making it incredibly photogenic. Rubjerg Knude Fyr Lighthouse is a popular tourist spot, providing plenty of opportunities to take in panoramic views and explore the shifting sand dunes. Visitors today can take a steep staircase down to the evening terrace of the lighthouse, just one of many things to do here. Be sure to bring binoculars to spot distant birds out on the ocean. Regardless of when you visit, it's worth taking a few minutes to marvel at the beauty of this celebrated landmark.
🌦 Información meteorológica
Obtenga información meteorológica y mucho más desde la aplicación. ¡Descárgalo gratis!
🚕 ¿Cómo llegar allá?
Obtén información de rutas (en coche, a pie, en transporte público, etc), y mucho más, desde la app. ¡Descárgalo gratis!
💬 Sugerencias y Comentarios