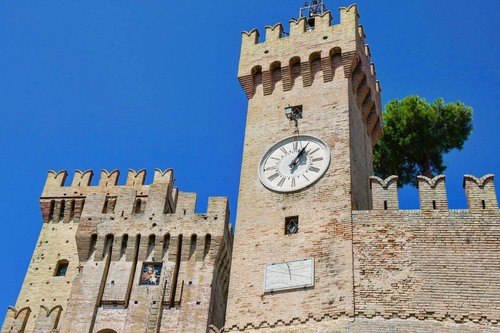 Rocca della Rocca - Medievale is an amazing castle in Offagna, Italy. Located in a stunning hilltop location, it offers unparalleled views of the nearby landscape. The castle was built in the early 13th century and has been largely unchanged since then. The castle still retains some of its original charm including the tall towers, castle walls, and courtyard. Inside, you can explore the various rooms and hallways and check out the unique frescoes, sculptures, and other works of art that line the walls and the ceiling of the main hall. The castle also has an unusual curved entrance gate which is believed to have been constructed in the 15th century. During summer months, the castle hosts events such as open-air films, theatrical performances, and historical re-enactments. If you're looking for a spectacular sight and a little bit of history, a visit to Rocca della Rocca - Medievale is a must.
🏨 Hostales
🌦 Información meteorológica
Obtenga información meteorológica y mucho más desde la aplicación. ¡Descárgalo gratis!
🚕 ¿Cómo llegar allá?
Obtén información de rutas (en coche, a pie, en transporte público, etc), y mucho más, desde la app. ¡Descárgalo gratis!