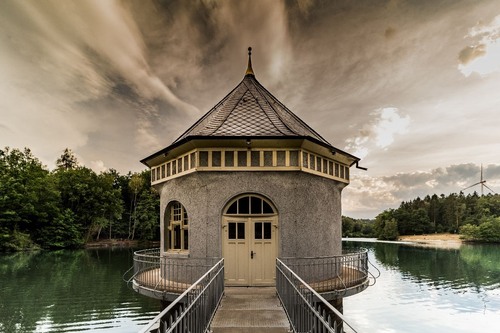 Pumpenhaus im Itzenplitzer Weiher is a breathtakingly beautiful landmark in the town of Schiffweiler, Germany. The design of the building is a total wonder to behold, having aged beautifully over the centuries. It was built in 1619 as a part of a larger agricultural complex that was used to supply the nearby villagers with food and grain. The architectural style of the building is a perfect combination of both German Rococo and Baroque. Inside the building, there are impressive old wooden beams that are still intact, as well as some paintings and other artifacts. Outside, you can admire the exquisite landscape of Schiffweiler, with its rolling hills and meadows. It is one of the best places to take a leisurely walk and admire nature in its glory. It is also an ideal spot for a romantic picnic, thanks to its serene atmosphere and lush vegetation.
🌦 Información meteorológica
Obtenga información meteorológica y mucho más desde la aplicación. ¡Descárgalo gratis!
🚕 ¿Cómo llegar allá?
Obtén información de rutas (en coche, a pie, en transporte público, etc), y mucho más, desde la app. ¡Descárgalo gratis!