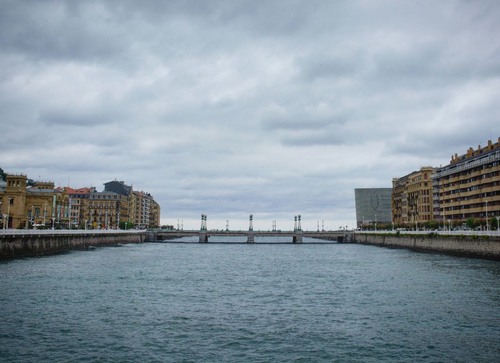 Puente del Kursaal is a spectacular suspension bridge, located in Donostia, Spain. Spanning two sections of the Urumea River, it connects the city's two main attractions – the old city of Donostia, and La Concha Beach. Although it is relatively modern compared to other bridges in the city, it is still quite impressive, and offers wonderful views of the surrounding area. Built in 1976, it is also a popular spot among tourists and photographers. Connecting the seaside promenade of La Concha beach to the old city, passersby can enjoy great views of the sea, the beach, the centre, and a few of the city's bridges. The bridge's construction is quite unique, and it was built with prefabricated, rectangular pieces of metal. The bridge follows the curves of the river, and its design provides excellent views to those crossing it.
🌦 Información meteorológica
Obtenga información meteorológica y mucho más desde la aplicación. ¡Descárgalo gratis!
🚕 ¿Cómo llegar allá?
Obtén información de rutas (en coche, a pie, en transporte público, etc), y mucho más, desde la app. ¡Descárgalo gratis!