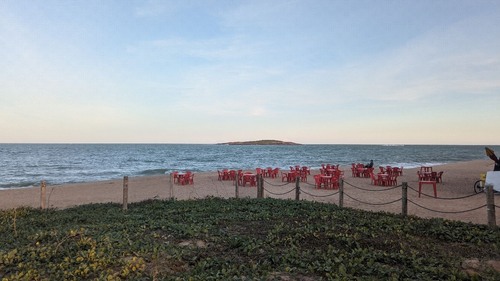 Praia de Itaparica is a paradise located on the coast of Vila Velha in Brazil. It's one of the most beautiful beaches in the region, with crystal clear turquoise waters and white sand that sparkles in the sun. Its location is ideal for visitors looking to relax during their vacation, as it's located near bars, restaurants and other attractions. There's also plenty of opportunities for adventure, such as kayaking, windsurfing, and kitesurfing. Take a leisurely walk through Praia de Itaparica's vibrant nature park, where you can observe the flora and fauna of the region in all its glory. If you want to explore the area further, Vila Velha also offers a diverse selection of cultural and religious attractions. Whether you're looking to relax by the beach or take in some of the attractions of Vila Velha, Praia de Itaparica is the perfect place to get away from it all.
🌦 Información meteorológica
Obtenga información meteorológica y mucho más desde la aplicación. ¡Descárgalo gratis!
🚕 ¿Cómo llegar allá?
Obtén información de rutas (en coche, a pie, en transporte público, etc), y mucho más, desde la app. ¡Descárgalo gratis!