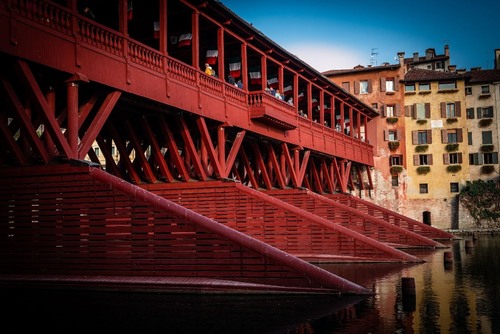 Ponte Vecchio, also known as Ponte degli Alpini, is an iconic pedestrian-only bridge connecting the two sides of Bassano del Grappa in northern Italy. Built in 1569, the bridge is made of wood and allowed for a much easier passage of medieval travelers crossing the Brenta River. The bridge is historically known for being a hub for exchanging trades, but today it is mostly used as a popular tourist spot, renowned for its picturesque views from the middle of the river. From the centre of the bridge, tourists can capture breathtaking images of the terraced hills of the Dolomites in the background, the town of Bassano and the river itself. The bridge is adorned with frescoes, statues, carvings, and flags, making for a beautiful spectacle for visitors and local alike.
🌦 Información meteorológica
Obtenga información meteorológica y mucho más desde la aplicación. ¡Descárgalo gratis!
🚕 ¿Cómo llegar allá?
Obtén información de rutas (en coche, a pie, en transporte público, etc), y mucho más, desde la app. ¡Descárgalo gratis!