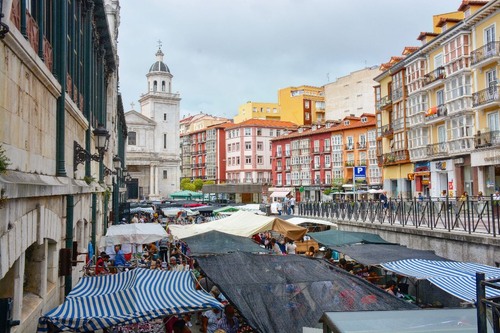 Plaza de la Esperanza, in Santander, Spain, dates back to at least the 16th century and is a popular spot in Santander's historic old city. Located at the intersection of three main streets, it is considered a hub of activity and provides a great place to take a break while exploring the city. The plaza is home to several notable landmarks, including a bronze fountain that has stood in the center of the plaza since 1820. It is also known for the historic Hotel Real, located at one of its corners, and the City Hall building on another corner. Across from the plaza is the Pérez Galdós Theater and a marketplace where locals sell everything from fruits and vegetables to homemade ceramics. Plaza de la Esperanza is the perfect place to experience the hustle and bustle of the city.
🌦 Información meteorológica
Obtenga información meteorológica y mucho más desde la aplicación. ¡Descárgalo gratis!
🚕 ¿Cómo llegar allá?
Obtén información de rutas (en coche, a pie, en transporte público, etc), y mucho más, desde la app. ¡Descárgalo gratis!