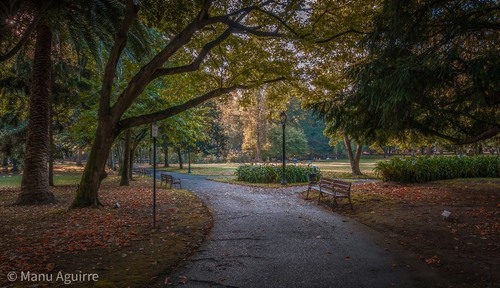 Welcome to Parque de Ferrera, in Aviles, Spain! The park is a popular destination for its rich history, diverse landscape, and natural beauty. It offers visitors a tranquil escape from the hustle and bustle of the city and plenty of opportunities for exploration. In the center of the park are three large ponds, which feature various species of waterfowl, as well as a small duck pond. Visitors can also take a leisurely stroll through the pathways lined with old trees, many of which were planted by previous owners. In addition to the ponds, the park offers a variety of other attractions. There is an amphitheater, which hosts various cultural events, and a butterfly garden with a miniature green house. There are also winding paths and benches scattered throughout, so visitors can enjoy the sights and sounds of nature. Parque de Ferrera is a great spot to relax, explore, and take in the beauty of Aviles.
🌦 Información meteorológica
Obtenga información meteorológica y mucho más desde la aplicación. ¡Descárgalo gratis!
🚕 ¿Cómo llegar allá?
Obtén información de rutas (en coche, a pie, en transporte público, etc), y mucho más, desde la app. ¡Descárgalo gratis!