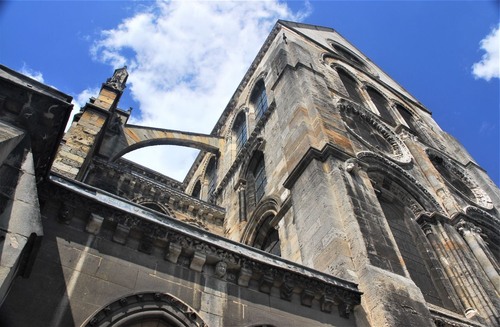 Notre Dame en Vaux is a historically significant 12th-century church located in the heart of Châlons-en-Champagne, France. It is considered a typical example of Romanesque, religious art in France. The church consists of several bays, separated by pillars and surmounted by an octagonal tower. It is the oldest building in Châlons-en-Champagne, having been built in 1125. Its most remarkable feature is a tympanum from the cloister which is decorated with a sculpture depicting the Last Judgement. It is registered as a monument historique since 1840 by the French Ministry of Culture. It is known for its magnificent stained glass windows, which date from the end of the 12th to the beginning of 20th century. Visitors to Notre Dame can also admire the beautiful stone columns, carved capitals and sculpted tympanum. The church is also famous for its acoustic qualities, making it the perfect venue for a variety of events such as classical music performances. Notre Dame en Vaux is a must-see when visiting Châlons-en-Champagne.
🌦 Información meteorológica
Obtenga información meteorológica y mucho más desde la aplicación. ¡Descárgalo gratis!
🚕 ¿Cómo llegar allá?
Obtén información de rutas (en coche, a pie, en transporte público, etc), y mucho más, desde la app. ¡Descárgalo gratis!