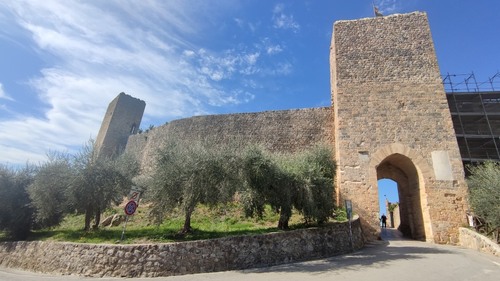 Mura e Porta Franca is one of the best preserved medieval walls in Italy. This section of wall is located in the old city of Monteriggioni, which was built in 1213 to protect the townspeople from invading armies. The wall is made up of sixteen towers and four gates, and is over 1000 years old. It has a picturesque view of the Tuscan countryside and nearby towns. The walls are open to visitors and have exhibitions which tell the story of the town's history. There is also an old church on the grounds, where visitors can explore and learn more about the medieval town. The wall provides an insight into the past, giving an understanding of the way of life in the area during the medieval period. There is plenty to explore, and the wall and town makes for a great day out.
🌦 Información meteorológica
Obtenga información meteorológica y mucho más desde la aplicación. ¡Descárgalo gratis!
🚕 ¿Cómo llegar allá?
Obtén información de rutas (en coche, a pie, en transporte público, etc), y mucho más, desde la app. ¡Descárgalo gratis!