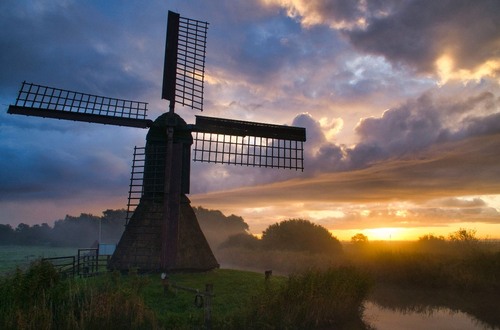 The Mühle in der Wilster Marsch is a historically significant windmill located in Stördorf, Germany. Most likely built in the 18th century, the Mühle had been used to grind grain by a local noble family, the von Bodenhausen. The family owned the mill and the surrounding agricultural area until it was sold to the local municipality in 1973. Although the Mühle has been modified and restored over the years, it still maintains its characteristic shape and feel, combining old-world charm and modernity all at once. The Mühle is surrounded by lush farmland, wetlands, and a stunning view of the Elbe, which makes it a fantastic spot for sightseeing, absorbing rural life, and learning about the history of this region. Tourists and locals alike appreciate the beauty of the river and its surroundings, especially during the summer months when the fields are covered in wildflowers and the air is thick with the scent of the nearby Elbe.

The Mühle contains a museum, which showcases tools for grain milling and other artifacts from the past. Visitors can explore these fascinating elements of rural German history from the inside, which gives them an iinsightful glimpse into the district's past. A small café is also located in the Mühle, offering a variety of snacks and drinks for visitors to enjoy. The nearby town of Wilster also offers several restaurants, shops, and historic sites to explore, making the Mühle a great starting point for your exploration of the region.
🌦 Información meteorológica
Obtenga información meteorológica y mucho más desde la aplicación. ¡Descárgalo gratis!
🚕 ¿Cómo llegar allá?
Obtén información de rutas (en coche, a pie, en transporte público, etc), y mucho más, desde la app. ¡Descárgalo gratis!