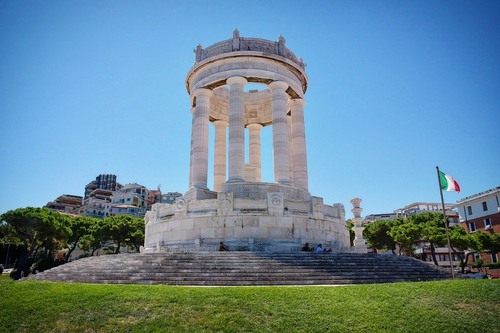 Monumento ai Caduti is a monument honoring those who lost their lives in World War I, located in the center of Ancona, Italy. This memorial was erected in 1922, and stands 44m tall. The monumental complex consists of two parts, an observation deck with an ornamental staircase, and an impressive bronze statue of a female figure dressed in ancient Roman armor and standing on a 2.5m tall pedestal, which symbolizes Italy's liberation from the Austro-Hungarian empire. The statue is made of bronze, and is flanked, on either side, by four large Corinthian columns. The memorial is surrounded by a marble wall, with a small chapel behind it, honoring those soldiers who lost their lives defending their homeland. Visitors can enter the observation deck from the ornamental staircase and take in sweeping views of the city and its port. On holidays and anniversaries, the monument is lit up with fireworks, creating a unique sight. It's also an impressive sight at night, when it's lit up with spotlights.
🏨 Hostales
🌦 Información meteorológica
Obtenga información meteorológica y mucho más desde la aplicación. ¡Descárgalo gratis!
🚕 ¿Cómo llegar allá?
Obtén información de rutas (en coche, a pie, en transporte público, etc), y mucho más, desde la app. ¡Descárgalo gratis!