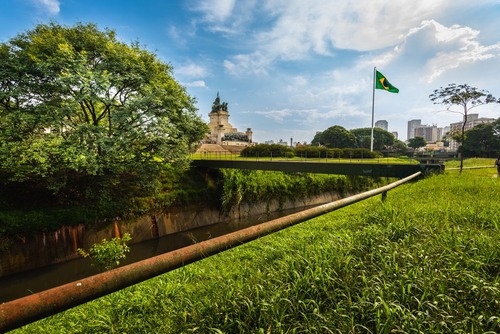 TOP
Monumento à Independência is a neo-classical monument located in Brazil's Ipiranga neighborhood. It is known as a symbol of Brazilian independence, as the monument is dedicated to the proclamation of Brazilian independence on September 7th 1822. It was designed and constructed in the late 19th century by Brazilian sculptor, architect and painter, Alexandre Sezerino da Costa. The monument's entrance is stepped with Italian white marble, while at the top is a tall granite column, which is sealed with a bronze statue of Dom Pedro I, the first emperor of the country. Within the building, the walls are plastered with large photographs which document the history of the proclamation of independence. Lastly, standing before the monument is a white marble fountain dedicated to national hero, José Bonifacio de Andrada e Silva. A visit to Monumento à Independência is a must for travelers visiting Ipiranga.
🌦 Información meteorológica
Obtenga información meteorológica y mucho más desde la aplicación. ¡Descárgalo gratis!
🚕 ¿Cómo llegar allá?
Obtén información de rutas (en coche, a pie, en transporte público, etc), y mucho más, desde la app. ¡Descárgalo gratis!