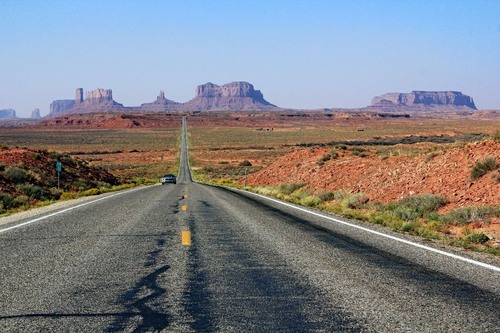 TOP
Monument Valley is a spectacular wild west landscape situated in the heart of Utah, USA. The picturesque Monument Valley Trail winds through the amazingly tall sandstone buttes, while the epic Navajo Tribal Park encompasses 86,000 acres of ever-changing vistas, including mitten-shaped buttes, monoliths and other geological formations. Blooming wildflowers and an array of wildlife add texture to the incredible backgrounds. Unforgettable experiences can be had during sunrise and sunset when the light hits the multicolored spires, but there are plenty of views to delight anytime of the day. Be sure to visit its fascinating local Native American communities and culture, in a series of historic sites, lodges and trading posts. Visit the iconic classic John Ford's Point and experience the world-famous outlook of the western movies. Monument Valley has something to offer for everyone - photography, hiking, camping, star-gazing, bird-watching and history.
🏨 Hostales
🌦 Información meteorológica
Obtenga información meteorológica y mucho más desde la aplicación. ¡Descárgalo gratis!
🚕 ¿Cómo llegar allá?
Obtén información de rutas (en coche, a pie, en transporte público, etc), y mucho más, desde la app. ¡Descárgalo gratis!