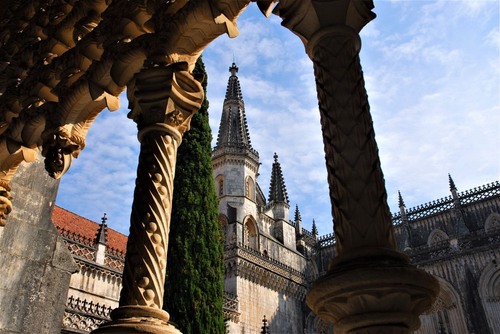 The Monastery of Batalha or Mosteiro da Batalha is a Gothic monastery in Batalha, Portugal. It was constructed from 1388 to 1517 as part of King João I's gratitude for the victory of the famous Battle of Aljubarrota in 1385. It is a stunning and imposing monument, classified as a part of UNESCO's World Heritage Site. The highlights of the monastery are the Founder's Chapel, decorated with a magnificent Manueline vaults and stained glass; The Chapter House, the old meeting room of the monastery, where the masterworks of Portuguese sculpture Carlos Froes are kept; and the Royal Cloister, with a portico and various statues and tombs of illustrious Kings and Princesses of Portugal. Besides that, the monastery has a Gothic-style architecture, with a defensive gate and towers, a 16th-century refectory and King Joao's tomb. It's an impressive sight that must be seen!
🏨 Hostales
🌦 Información meteorológica
Obtenga información meteorológica y mucho más desde la aplicación. ¡Descárgalo gratis!
🚕 ¿Cómo llegar allá?
Obtén información de rutas (en coche, a pie, en transporte público, etc), y mucho más, desde la app. ¡Descárgalo gratis!