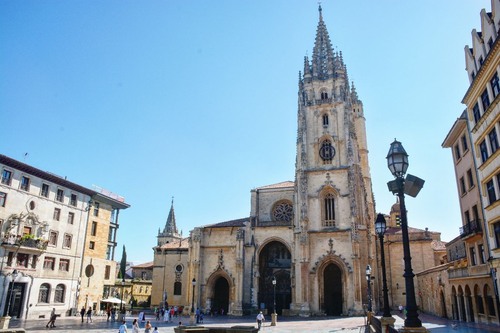 The Metropolitan Cathedral of San Salvador of Oviedo, located in Oviedo, Spain, is one of the most popular religious sites in the country. The cathedral dates back to the 11th century, with additions and modifications made since then. An observation platform perched atop the bell tower allows you to get a bird's-eye view of Oviedo and the surrounding areas. The main Baroque façade houses a wooden statue of the Virgin of Covadonga and features a nativity scene on the side. Inside you can admire the crypt and the treasures kept there, including a 12th-century gilded altar and several ornate shrines. Also worth seeing is the chapel of the Holy Chalice and the Gothic cloister, as well as statues of saints, and other historically significant pieces. The Cathedral of San Salvador of Oviedo is a beautiful sight that shouldn't be missed!
🌦 Información meteorológica
Obtenga información meteorológica y mucho más desde la aplicación. ¡Descárgalo gratis!
🚕 ¿Cómo llegar allá?
Obtén información de rutas (en coche, a pie, en transporte público, etc), y mucho más, desde la app. ¡Descárgalo gratis!