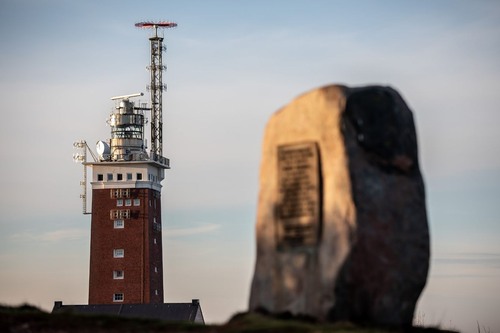 The Leuchtturm und Gedenktafel on Helgoland, Germany is a unique explosion of colour and history. The islands have been inhabited since 1810, when the British annexed them from Denmark. Today, visitors can explore the islands and its spectacular views of the North Sea and mainland Europe. The Leuchtturm, German for 'lighthouse', holds great significance to the islands' long maritime history and stands tall against the bright blue of the sky and sea. Close by, the Gedenktafel, German for 'memorial table', pays tribute to the various sea-faring heroes who made the history of Helgoland. The Leuchtturm and Gedenktafel can be reached by a small ferry ride from the nearby mainland of Germany. Once you are there, you will be able to explore the many small cobbled streets that make up the island and capture some beautiful images of its unique character. With its vast beaches and captivating skyline, the Leuchtturm und Gedenktafel makes for an unforgettable experience for any traveler or photographer.
🏨 Hostales
🌦 Información meteorológica
Obtenga información meteorológica y mucho más desde la aplicación. ¡Descárgalo gratis!
🚕 ¿Cómo llegar allá?
Obtén información de rutas (en coche, a pie, en transporte público, etc), y mucho más, desde la app. ¡Descárgalo gratis!