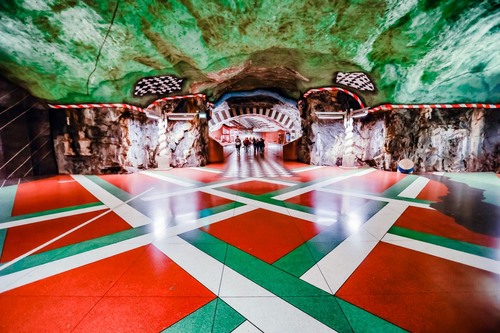 Kungsträdgården (or the King's Garden) is a popular public park located in the heart of Stockholm's Norrmalm borough. The park is best known for its open grassy areas, fountains, cafes and sculptures. It is a popular spot for locals to take a leisurely stroll, relax, people-watch or enjoy a picnic. It's also home to multiple site-specific sculptures, including a large stone pyramid, a canvas of buildings in the shape of a heart and a remarkable sundial. For visitors, the park is a great place to wander, explore and capture great snapshots of the beautiful city. The nearby Stockholm Subway is also worth a visit. With its bold tiled walls, illuminated walkways and unique mosaic lighting, it's a captivating place for photographers. The station is beautifully illuminated with vibrant colors and creates an unforgettable experience for commuters and visitors.
🏨 Hostales
🌦 Información meteorológica
Obtenga información meteorológica y mucho más desde la aplicación. ¡Descárgalo gratis!
🚕 ¿Cómo llegar allá?
Obtén información de rutas (en coche, a pie, en transporte público, etc), y mucho más, desde la app. ¡Descárgalo gratis!