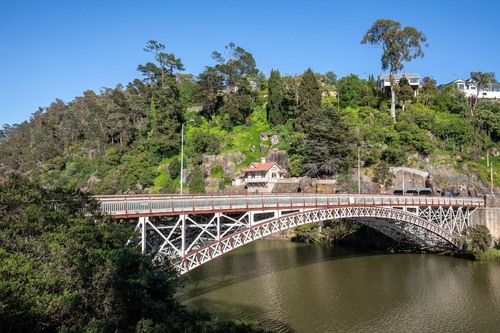 King's Bridge and King's Bridge Cottage in Trevallyn, Australia, are an intriguing tourist destination. King's Bridge is a very old structure that looks like a small castle and is surrounded by a few cottages, including King's Bridge Cottage. King's Bridge is a great place to explore and take in some of the historical scenery. Visit some of the local shops, take a stroll through the gardens, and take in some of the old architecture. The cottage is located right beside the bridge, so you can get some great photos of the old structure and the surrounding area. The cottage has been preserved and is open to visitors who want to learn more about the region. Enjoy a picnic and relax in the picturesque gardens - the perfect place to rest and relax.
🌦 Información meteorológica
Obtenga información meteorológica y mucho más desde la aplicación. ¡Descárgalo gratis!
🚕 ¿Cómo llegar allá?
Obtén información de rutas (en coche, a pie, en transporte público, etc), y mucho más, desde la app. ¡Descárgalo gratis!