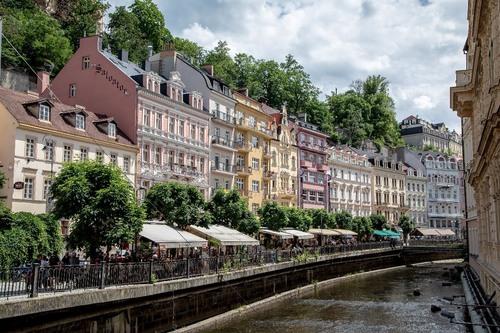 The spa town of Karlovy Vary formerly known as Karlsbad is located in the western Bohemian region of the Czech Republic. This town is famous for its mineral-rich hot springs, which have lured Bohemian royalty, celebrities and regular tourists for centuries. Its main attraction is a network of 12 hot spring colonnades, each separated by a bridge, including the iconic Mlýnský Most bridge, where you will find lush greenery and a stream of heated, sulphurous water. The buildings of Karlovy Vary's historic quarter feature delightful styles such as Baroque, Neo-Renaissance and Empire, often built with colourful stucco and frescoed walls. Take a stroll along the wide pedestrianized streets and take in the grandeur of the neoclassical Church of St. Mary Magdalene and the spires of the Orthodox Church of the Assumption of the Virgin Mary. Be sure to try the local famous wafers, Karlovy Vary's signature toffee-like sweets, while sampling the plethora of local herbal liqueurs.
🏨 Hostales
🌦 Información meteorológica
Obtenga información meteorológica y mucho más desde la aplicación. ¡Descárgalo gratis!
🚕 ¿Cómo llegar allá?
Obtén información de rutas (en coche, a pie, en transporte público, etc), y mucho más, desde la app. ¡Descárgalo gratis!