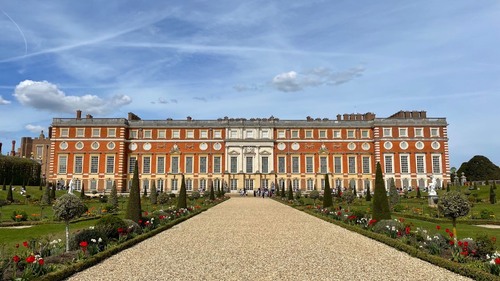 Hampton Court Palace is a magnificent former royal residence located in Molesey, United Kingdom. Dating back to the early 16th century, it was once the home of royalty, including King Henry VIII and his six wives. The palace boasts breathtaking baroque designs and architecture, with a magnificent network of gardens and grounds. Visitors to the palace can explore the State Apartments, magnificently decorated with antique furniture and art. Stroll around the acres of gardens, featuring manicured formal gardens, as well as walled and wilderness gardens, showcasing hundreds of varieties of trees, plants, and flowers from across the world. Enjoy a spot of lunch and a stroll in the Great Vine, first planted in 1779 and one of the oldest grapevines in the world. Choose from an array of interactive tours and activities for all ages, including engaging exhibitions and a magical day out with aFalconer demonstration and birds of prey. There is also the Maze, the oldest of its kind in the United Kingdom. Amongst other highlights is the Chapel Royal, with its enormous gilded Baroque altar.
🏨 Hostales
🌦 Información meteorológica
Obtenga información meteorológica y mucho más desde la aplicación. ¡Descárgalo gratis!
🚕 ¿Cómo llegar allá?
Obtén información de rutas (en coche, a pie, en transporte público, etc), y mucho más, desde la app. ¡Descárgalo gratis!