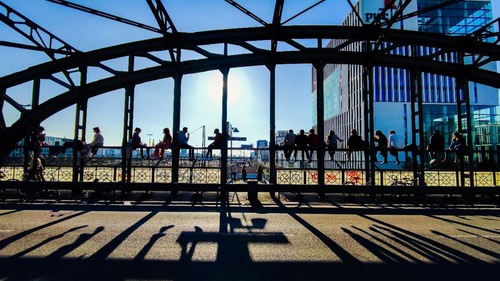 Hackerbrücke is a bridge in Munich, Germany, connecting the city centre with the west side. It links several of Munich's biggest cultural and recreational areas, such as the English Garden, the Olympic Park and the canal system, which includes the Munich Isar, the old city centre and the ancient railway station "Hackerbrücke". This bridge is best known for its amazing views of the city, the mountains, and the River Isar. A walk along the bridge, along the canal and up the stairs to the top of the bridge, offers a great opportunity for sightseeing and for taking in the spectacular views of Munich's skyline. Additionally, there are bike paths which make for an enjoyable ride. The nearby old railway station, dating from 1906 and worth seeing, adds to the charm of the area.
🏨 Hostales
🌦 Información meteorológica
Obtenga información meteorológica y mucho más desde la aplicación. ¡Descárgalo gratis!
🚕 ¿Cómo llegar allá?
Obtén información de rutas (en coche, a pie, en transporte público, etc), y mucho más, desde la app. ¡Descárgalo gratis!