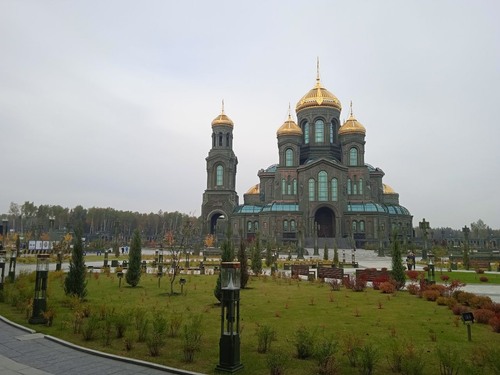 Located in Zelenaya Roshcha, Russia, the Glavnyy Khram Vooruzhonnykh Sil Rossii and Park Patriot offers a peaceful and thought-provoking experience. The Glavnyy Khram Vooruzhonnykh Sil Rossii is a grandiose memorial and military cemetery. It features a cross-shaped memorial complex and a chapel and is a commemoration of fallen soldiers of the Great Patriotic War. This is a solemn place, full of memorials, yellow and black tulips, and armed guard of Honour. The Park Patriot offers a great view of the chapels, memorials, and monuments. This park is filled with lush green trees, flower beds, and fountains. Park Patriot pays tribute to all military victims of the 20th century with its sculptures, monuments and memorials scattered across the park. Enjoy exploring the area, lose yourself in its rich history and breathtaking architecture, or simply relax and take in the views.
🏨 Hostales
🌦 Información meteorológica
Obtenga información meteorológica y mucho más desde la aplicación. ¡Descárgalo gratis!
🚕 ¿Cómo llegar allá?
Obtén información de rutas (en coche, a pie, en transporte público, etc), y mucho más, desde la app. ¡Descárgalo gratis!