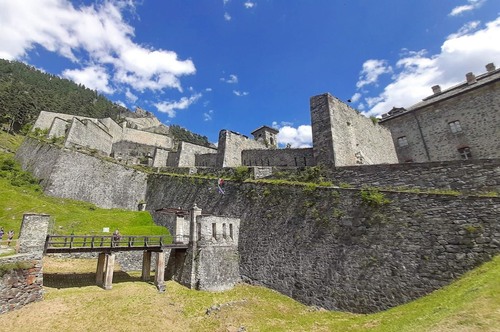 Fenestrelle is located at the foothills of the Alps, in the municipality of Fenestrelle, Italy. Its central attraction is the intricate three-level fortress. Built in the 18th century, the 'La Fortezza di Fenestrelle' overlooks the valley and offers stunning views with its impressive towers and walls. It boasts some of the longest, most complex fortification systems in Europe. It was built to protect the region from French troops, by connecting two castles and including parts of the Great Stura Wall.

Within the walls of the fortress are a series of fortifications, a rain collecting structure and a church. Visitors can explore the fortress and its secrets. They may also be lucky to spot some of the local wildlife, including golden eagles and wild ibexes. The fortress also contains some amazing views of the surrounding mountains. This is a must-visit for all visitors to the area!
🏨 Hostales
🌦 Información meteorológica
Obtenga información meteorológica y mucho más desde la aplicación. ¡Descárgalo gratis!
🚕 ¿Cómo llegar allá?
Obtén información de rutas (en coche, a pie, en transporte público, etc), y mucho más, desde la app. ¡Descárgalo gratis!