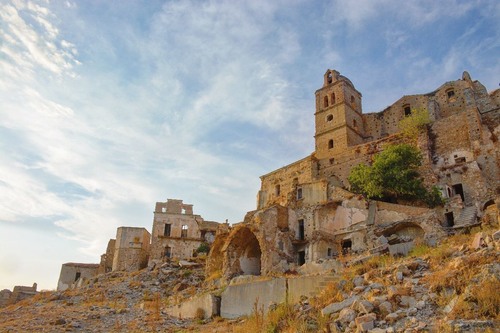 Craco Historical Center, located in the Italian province of Matera, in the region of Basilicata, combines many elements of religious and artistic interest. Its origin is linked to the first construction of the castle, whose foundation is attributed to the Lombards around 983. In the 13th century, work began on the construction of the village in accordance with its natural structure on various levels. It was subsequently enlarged up until the 18th century. In this period, being at the centre of the agriculture and textile production, Craco played an important economic role in the area until it began to be abandoned at the beginning of the 1900s, due to geological characteristics, recurrent poverty and repeated natural disasters. Craco is a medieval village of white houses with orange roofs set against the back drop of a rugged, barren landscape- an evocative, mysterious atmosphere that make it a must-see destination for travellers and photographers. It is a protected area and it can be visited from Tuesday to Sunday from 9 AM to sunset in the summers, and from 10 AM to sunset in the winter.
🏨 Hostales
🌦 Información meteorológica
Obtenga información meteorológica y mucho más desde la aplicación. ¡Descárgalo gratis!
🚕 ¿Cómo llegar allá?
Obtén información de rutas (en coche, a pie, en transporte público, etc), y mucho más, desde la app. ¡Descárgalo gratis!