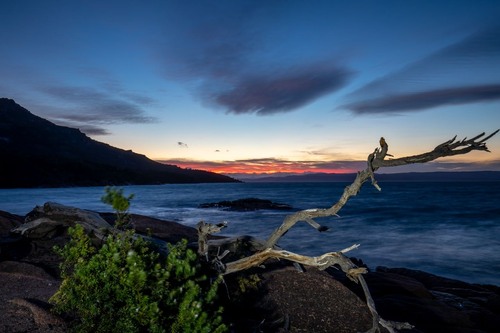 Tasmania's East Coast offers some of Australia's most spectacular coastline and bays, with the Freycinet National Park situated right at the center of it. Freycinet is a truly magical place, full of lush green rolling hills, secret coves and long sandy beaches. Perhaps the most famous of these beaches is Honeymoon Bay, a white sandy beach set against the turquoise-blue water of the bay. More secluded than neighboring Wineglass Bay, Honeymoon Beach is a great spot to relax and unwind. Swimming, snorkeling, kayaking and mountain biking are all popular activities here. Rich in wildlife, Freycinet is home to a number of bird and marine species, including penguins and dolphins. There are also numerous bushwalking trails, from the gentle strolls along the coast, to the more adventurous climbs to the summit of Mt Freycinet. Whether you are a seasoned explorer or new to the area, Freycinet is sure to be a rewarding and memorable experience.
🌦 Información meteorológica
Obtenga información meteorológica y mucho más desde la aplicación. ¡Descárgalo gratis!
🚕 ¿Cómo llegar allá?
Obtén información de rutas (en coche, a pie, en transporte público, etc), y mucho más, desde la app. ¡Descárgalo gratis!