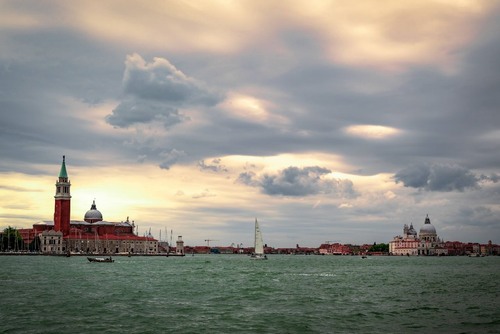 The Church of San Giorgio Maggiore is a majestic 16th century Roman Catholic church located on a small island, across the Giudecca Canal, in Venice, Italy. It is one of the most prominent churches of the city and one of the most beautiful examples of classical Italian Renaissance architecture. The building was designed by Andrea Palladio and is surrounded by tranquil gardens and terraces, providing stunning views of the city. It also houses the Basilica di San Giorgio, the monastery and the museum. Inside, you'll find splendid marble works, paintings and ceiling frescoes, by such renowned artists as Titian, Paolo Veronese and Tintoretto. Visitors are welcome to attend the regular services and visit the sacristy, where precious liturgical items are kept. Not to be missed is the roof terrace with its wonderful view of the Giudecca Canal, Punta della Dogana, the island of San Giorgio Maggiore and the Riva degli Schiavoni.
🌦 Información meteorológica
Obtenga información meteorológica y mucho más desde la aplicación. ¡Descárgalo gratis!
🚕 ¿Cómo llegar allá?
Obtén información de rutas (en coche, a pie, en transporte público, etc), y mucho más, desde la app. ¡Descárgalo gratis!