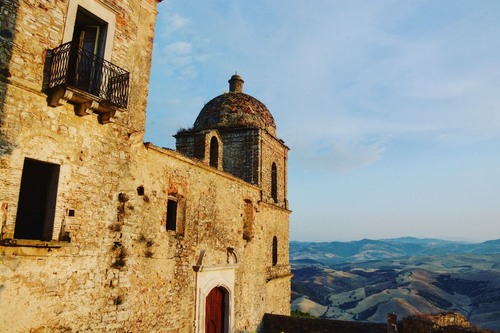 The Church and Craco Historical Center in Craco, Italy is a place for heritage lovers and photographers alike. Craco is a Medieval ghost town situated at the top of a hill 200m above sea level in the Basilicata region of southern Italy. The town and the hill it sits on date back to the 10th century and were once home to a thriving town of nearly 2,000 people until it was abandoned in 1963. Its charming and eerie uniqueness draws visitors to experience the site, featuring the preserved remains of a castle and the church of Santa Maria della Macena, the town's original patron saint. Today, visitors to Craco can bask in its ancient beauty, wander its narrow cobbled streets, and explore its abandoned buildings and monuments. This incredible site is definitely worth visiting to experience the small town charm of its days gone by!
🏨 Hostales
🌦 Información meteorológica
Obtenga información meteorológica y mucho más desde la aplicación. ¡Descárgalo gratis!
🚕 ¿Cómo llegar allá?
Obtén información de rutas (en coche, a pie, en transporte público, etc), y mucho más, desde la app. ¡Descárgalo gratis!