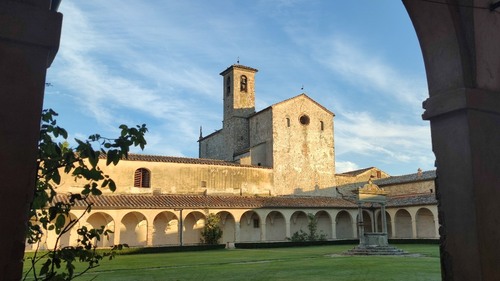 The Chiostro Grande e Chiesa in Pontignano, Italy, is an impressive church and cloister complex set against the rolling hills of Tuscany. The 13th century church is constructed out of bright white stone, while the cloister is composed of two different levels with intricate, Romanesque arches. On the exterior, there is a Romanesque belfry with a rosette window and a pointed tympanum over the south door. Inside, there is a single nave with a ribbed Gothic vault and several Renaissance-era frescoes, such as in the Chapel of Santa Barbara. The cloister, which was constructed in the 1300s, boasts a double loggia and surrounding arcades that open up to a large external courtyard with a well. The combination of architectural styles, views of the hills, and stunning art make a trip to this complex a must for any traveler to the area.
🌦 Información meteorológica
Obtenga información meteorológica y mucho más desde la aplicación. ¡Descárgalo gratis!
🚕 ¿Cómo llegar allá?
Obtén información de rutas (en coche, a pie, en transporte público, etc), y mucho más, desde la app. ¡Descárgalo gratis!