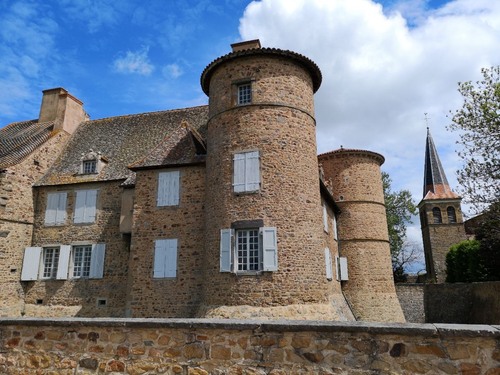 Château de Saint Marcel de Félines is located in the heart of the picturesque Forez countryside in Saint-Marcel-de-Félines, France. This 11th century castle stands tall, surrounded by a moat and boasting its beautiful Renaissance architecture. A visit to this castle will take you inside its walls and courtyard to admire its ancient stonework and charming decorations. Though the castle is not open to the public, the view of the castle and its rolling countryside is breathtaking. Unlike any other French château, this castle is a place like no other. Its moat, fortress-like walls and majestic towers take visitors back to a bygone era, making it a must-see for all visitors to the area. Whether you are a history buff, nature-lover, or in search of the perfect photo, Château de Saint Marcel de Félines is worth a visit.
🌦 Información meteorológica
Obtenga información meteorológica y mucho más desde la aplicación. ¡Descárgalo gratis!
🚕 ¿Cómo llegar allá?
Obtén información de rutas (en coche, a pie, en transporte público, etc), y mucho más, desde la app. ¡Descárgalo gratis!