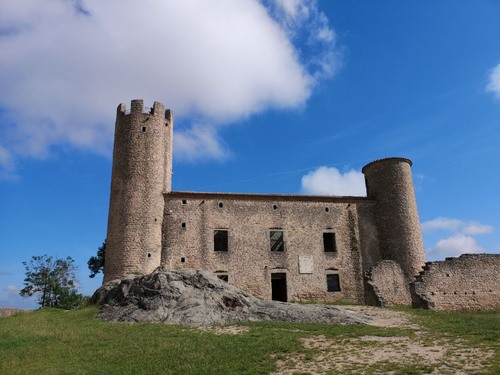 Château d'Essalois is a 15th century castle located in the commune of Chambles in central France. It is a beautiful example of medieval architecture, with great features such as its tall turret, a main tower, a chapel adjacent to it, walls with windows and a huge moat encircling it. The castle became part of a bigger estate in 1862 and has been preserved over the centuries. Visitors can explore the interiors of the castle, the grounds, and the chapel. It allows visitors a glimpse into the past and medieval life in central France. There are various festivals and events that take place at Château d'Essalois, such as the Hellfest, the Journées des Châteaux et des Jardins and the Saturday Market. It's a great place to escape from the hustle and bustle of the city life and experience beautiful medieval architecture firsthand.
🌦 Información meteorológica
Obtenga información meteorológica y mucho más desde la aplicación. ¡Descárgalo gratis!
🚕 ¿Cómo llegar allá?
Obtén información de rutas (en coche, a pie, en transporte público, etc), y mucho más, desde la app. ¡Descárgalo gratis!