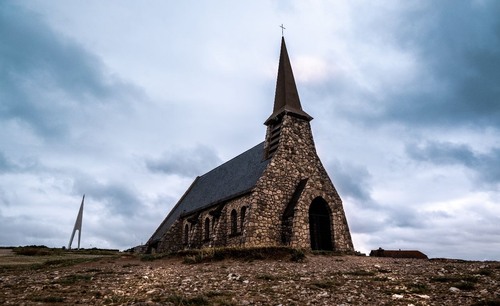 The Chapelle Notre-Dame-de-la-Garde is located on an impressive cliff-top overlooking the picturesque Normandy coastal town of Etretat in France. Built in the 19th century, the chapel is a monument of faith that provides spectacular views of the premier seaside resort of France. The splendour of its white limestone and turreted towers have made it a popular tourist attraction as well as a holy site for pilgrimage. It's a great location to marvel at the beauty of the Normandy coastline, take in the vast sea and appreciate the peace and tranquillity among the spectacular views of the nature. Whether you are visiting for relaxation, reflection, or photography, it is the perfect backdrop to marvel at the brilliance of the natural surroundings.
🌦 Información meteorológica
Obtenga información meteorológica y mucho más desde la aplicación. ¡Descárgalo gratis!
🚕 ¿Cómo llegar allá?
Obtén información de rutas (en coche, a pie, en transporte público, etc), y mucho más, desde la app. ¡Descárgalo gratis!