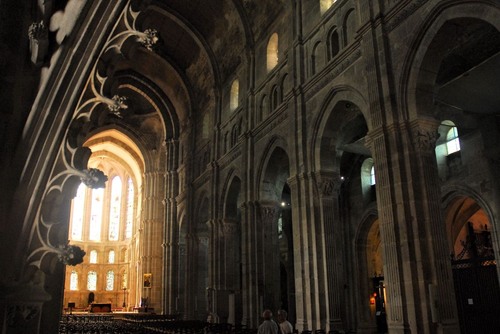 The Cattedrale di Saint Lazare is an imposing cathedral located in the old Roman city of Autun, in Burgundy, France. Built in the 12th and 13th centuries, the cathedral has one of the largest groups of Romanesque sculptures in all of Europe. Its façade is decorated with a variety of statues, symbols, and reliefs, including the influential "tympanum of the Last Judgment" which depicts the Day of Judgment in ghastly detail. Inside, visitors can marvel at the interior of the spacious nave and its rich decorations, as well as the intricately carved capitals and Gothic fittings that add to the atmosphere of awe and grandeur. Visitors can also climb the central tower to admire views of the city and the surrounding valley. As an important part of Autun's history and heritage, Cattedrale di Saint Lazare is a must-see for any traveler to the area.​
🌦 Información meteorológica
Obtenga información meteorológica y mucho más desde la aplicación. ¡Descárgalo gratis!
🚕 ¿Cómo llegar allá?
Obtén información de rutas (en coche, a pie, en transporte público, etc), y mucho más, desde la app. ¡Descárgalo gratis!