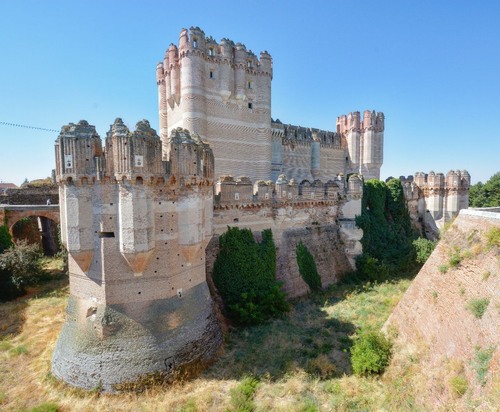 The Castillo de Coca is an imposing 15th-century castle located in the town of Coca, Segovia in central Spain. Built in the medieval period by Don Alvaro de Luna, Castillo de Coca was one of the first fortresses to be constructed in the province of Segovia. It stands tall next to the banks of the River Duratón and looks resplendent with its domed towers, spectacular stone walls and flag-draped parapets. The structure has two parts, the upper castle and the lower castle and has two distinct enclosures. While the upper castle was designed to be strategically impenetrable, the lower was designed to function as a royal palace and accommodate royal visitors. The castle is a notable example of late medieval military tactics, with multi-storied towers and turrets, secret passages, and an elevated chapel. Now it is open to the public and provides a wonderful view of the town of Coca, its ancient streets and alleyways, and surrouding countryside. It is a popular visitor attraction, offering breathtaking views and lasting memories of a rich cultural and historical legacy.
🌦 Información meteorológica
Obtenga información meteorológica y mucho más desde la aplicación. ¡Descárgalo gratis!
🚕 ¿Cómo llegar allá?
Obtén información de rutas (en coche, a pie, en transporte público, etc), y mucho más, desde la app. ¡Descárgalo gratis!