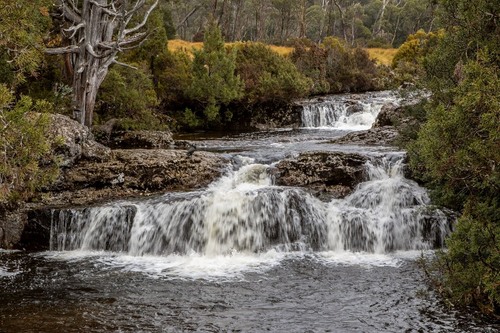 The Cascades of Pencil Pine Creek and Bridge of Cradle Mountain Road in Cradle Mountain, Tasmania provide extraordinary panoramic views of the mountain range and its surroundings. From the bridge, visitors can experience the sights and sounds of the wildflowers and ferns in the Pencil Pine Creek before the cascades. A short distance away lies Pencil Pine Falls, a delightful spot for photography. The stream-cut gorges, rugged cliff walls, lush valleys, and tumbling waterfalls of the area create an awe-inspiring landscape. Visitors to this area can enjoy many activities, including bushwalking, four wheel driving, and picnic areas. With a large variety of native wildlife, this is a great spot to explore and photograph.
🌦 Información meteorológica
Obtenga información meteorológica y mucho más desde la aplicación. ¡Descárgalo gratis!
🚕 ¿Cómo llegar allá?
Obtén información de rutas (en coche, a pie, en transporte público, etc), y mucho más, desde la app. ¡Descárgalo gratis!