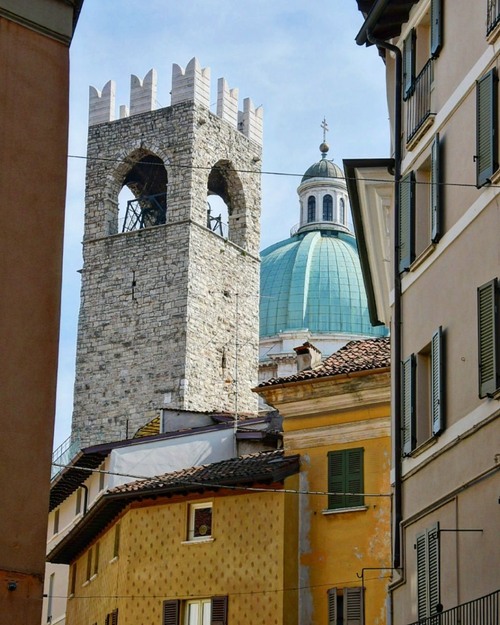 The Broletto and Duomo Nuovo, in the Italian city of Brescia, make up a complex of Romanesque-Gothic palaces and religious buildings dating back to the 12th century. Also known as the 'Duomo Vecchio', the Duomo Nuovo, or Cathedral of St. Peter, is the most important church in the city and symbolically marks the end of the Lombard domination. A large central Romanesque façade precedes the Gothic presbytery. Inside, the cupola of the Piazzetta del Duomo is a Renaissance masterpiece. The Broletto, beside the Cathedral, was the political and commercial center of the city until the construction of the modern city in the 18th century. Its two main acts, the Salò Maggiore and the Salò Minore, were restored between the years of 1936 and 1957. The square in front of the Broletto is closed by the old city walls and is the location of the fun fair 'Festa di Primavera.' This square and its surrounding buildings represent many centuries of the city's history and are a great starting point for exploring the city of Brescia.
🏨 Hostales
🌦 Información meteorológica
Obtenga información meteorológica y mucho más desde la aplicación. ¡Descárgalo gratis!
🚕 ¿Cómo llegar allá?
Obtén información de rutas (en coche, a pie, en transporte público, etc), y mucho más, desde la app. ¡Descárgalo gratis!