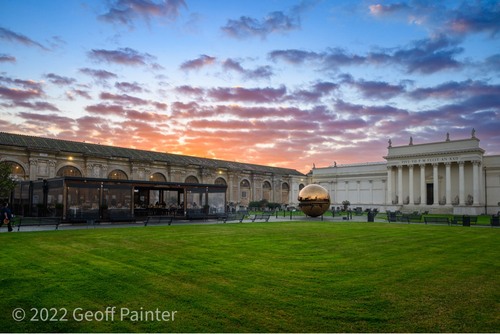 The Braccio Nuovo and the Courtyard of the Pigna are two excellent examples of early baroque architecture in Vatican City, the smallest independent state in the world. Located 500 meters south of St. Peter's Square, the Braccio Nuovo is a long, narrow room adorned with Renaissance frescoes, classical statues, and bas-reliefs. The Courtyard of the Pigna is a circular, colonnaded courtyard located just inside the city walls. The area is home to the ancient relic known as 'the pinecone', a 6m tall bronze pinecone sculpture and fountain which is an icon of the Vatican City. The two attractions are easily accessible, and offer visitors an excellent opportunity to learn and appreciate the cultural history of the city.
🏨 Hostales
🌦 Información meteorológica
Obtenga información meteorológica y mucho más desde la aplicación. ¡Descárgalo gratis!
🚕 ¿Cómo llegar allá?
Obtén información de rutas (en coche, a pie, en transporte público, etc), y mucho más, desde la app. ¡Descárgalo gratis!