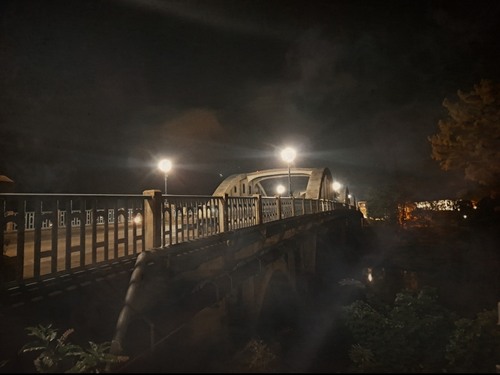 The Bibb Graves Bridge is an iconic location in Wetumpka, Alabama. Located on the Coosa River, it was built in 1933 as a two lane steel truss bridge for vehicular travel. Today, the bridge is popular destination for locals and tourists alike.

The structure is nearly 80 feet tall and spans almost a mile in length. It offers incredible views of the Coosa River, which is easily accessible by walking, running or cycling along a 4-mile trail that follows the river. The bridge is especially popular among local photographers, who often visit the bridge in the early morning or evening to take advantage of the perfect lighting. The bridge is part of Robert Daniel Phoenix Park, which includes a playground and picnic area. There is also a visitors center, a walking trail, and a boardwalk ideal for wildlife viewing. With the vast number of activities available, the Bibb Graves Bridge has become a popular spot for family outings and weekend getaways.
🌦 Información meteorológica
Obtenga información meteorológica y mucho más desde la aplicación. ¡Descárgalo gratis!
🚕 ¿Cómo llegar allá?
Obtén información de rutas (en coche, a pie, en transporte público, etc), y mucho más, desde la app. ¡Descárgalo gratis!