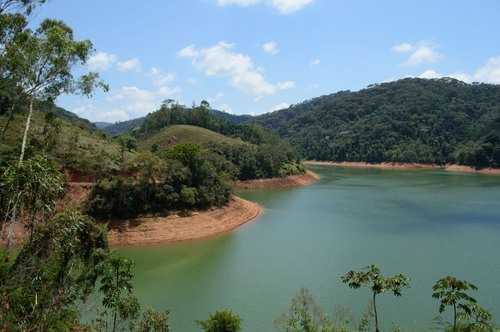 Barragem da Usina de Rio Bonito is considered one of the most beautiful artificial lakes in Brazil. It was constructed as part of a hydroelectric power plant and sports 16 turbines that generate 1470 MW of energy every year. This is one of the most popular tourist attractions in Santa Maria de Jetibá and is often referred to as "the Emerald of the Valley" for its amazing green hue. It is fed by the Urucum River, one of the main tributaries of the Rio Doce – the largest river in the southern part of Brazil. Here, visitors can enjoy beautiful views of the lake and its surroundings and engage in activities such as swimming, fishing, and boating. There are multiple beaches located near the lake, providing plenty of space to relax and take in the scenery. Hiking trails, a camping area, and a lookout tower complete the picture. Despite being manmade, the lake is home to an incredible array of flora and fauna, making it a paradise for nature lovers and photographers alike.
🌦 Información meteorológica
Obtenga información meteorológica y mucho más desde la aplicación. ¡Descárgalo gratis!
🚕 ¿Cómo llegar allá?
Obtén información de rutas (en coche, a pie, en transporte público, etc), y mucho más, desde la app. ¡Descárgalo gratis!