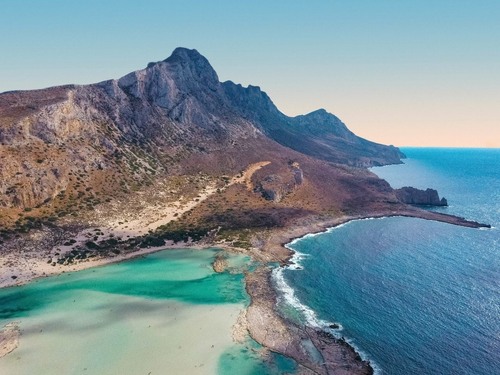 The mesmerizing Balos Lagoon, located in Kissamos Province in Greece, is an amazing place to visit. The lagoon is formed between a peninsula and mountainous terrain and is covered by turquoise waters, fine white sand and sea dunes. A shallow pathway on its edge is perfect for a leisurely walk in the sun. The beauty of the surroundings truly captures the Mediterranean atmosphere, making it one of the must-see destinations for anybody in Greece. The lagoon also offers a wide range of activities, from swimming and snorkeling to more adventurous excursions. A boat ride around the lagoon is a great way to explore this stunning landscape. To get to Balos Lagoon, you will have to take a boat ride or a taxi from Kissamos, or rent a car and drive there. Parking is available on the peninsula. You won't be disappointed!
🌦 Información meteorológica
Obtenga información meteorológica y mucho más desde la aplicación. ¡Descárgalo gratis!
🚕 ¿Cómo llegar allá?
Obtén información de rutas (en coche, a pie, en transporte público, etc), y mucho más, desde la app. ¡Descárgalo gratis!