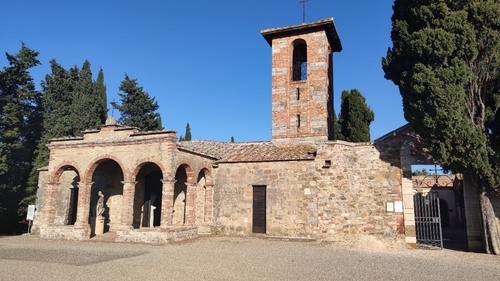 San Niccolò is a beautiful medieval village situated in the rolling hills of Tuscany, a province in central Italy. Built in the 13th century and located in the municipality of Casole d'Elsa, the picturesque San Niccolò welcomes visitors to roam its narrow and winding cobblestone streets lined with timeworn and traditional stone buildings. San Niccolò is also home to historical and architectural attractions such as the Cappella di Sant'Antonio, the Renaissance Palazzo Pretorio, and the Pieve di San Niccolò, a Romanesque 11th century church, amongst other interesting structures. San Niccolò's picturesque landscapes have also made it a favorite spot of those interested in country sports, with clay pigeon shooting and other leisure activities, as well as its traditional stone ovens, an example of the traditional people's way of life for generations. With beautiful rolling hills and its timeworn, yet majestic structures and monuments, San Niccolò is a unique and must-visit destination for those wanting to explore the beauty of Tuscany.
🌦 Weather information
Get weather information, and much more, from the app. Download it for free!
🚕 How to get there?
Get routes information (by car, walking, public transport, etc), and much more, from the app. Download it for free!