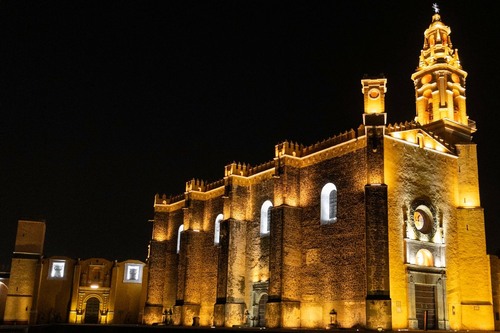 The San Gabriel Temple in Cholula, Mexico is a wonderful place to visit when in Mexico. It is a majestic example of Baroque architecture in Latin America and has been listed as a UNESCO World Heritage Site. The temple sits atop the "Great Pyramid of Cholula", the largest pyramid in the world. Built between the 16th and 17th centuries, the temple was erected over a mount of soil covering the pyramid. It houses both a Franciscan and Dominican convent, two old churches and two chapels. Inside the grounds, visitors will find colonial gardens, stone pathways, and a breath-taking view of the surrounding valleys. The temple also offers a unique combination of both traditional and modern artwork which makes it an ideal place to explore and take in the history of Mexico.
🌦 Weather information
Get weather information, and much more, from the app. Download it for free!
🚕 How to get there?
Get routes information (by car, walking, public transport, etc), and much more, from the app. Download it for free!