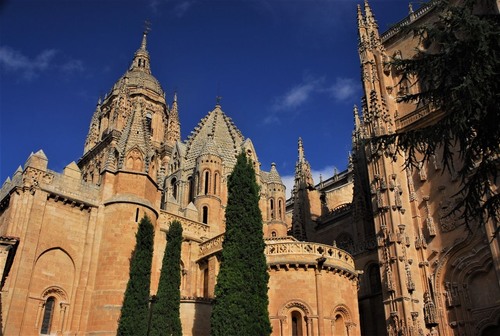 TOP
Located in the historic Spanish city of Salamanca, the Catedral de Salamanca is one of the most significant works of Spanish architecture. Construction of the cathedral began in the 12th century, making it one of the oldest cathedrals in Spain. The interior is dominated by a number of grandiose frescoes, ornately carved woodwork, and sumptuous decorations that abound. The sprawling domes hold the eye and draw attention to the impressive mix of Gothic, Renaissance and Baroque styles in the structure. A highlight of the complex is the choir, which features intricate stone work and captivating stained glass windows. The cathedral also contains a number of other works of art, including medieval sculptures and murals. The two bell towers serve as icons of the city and are visible from most points in the city center. The Salamanca Cathedral is a must-see attraction for visitors to Salamanca.
🏨 Hostels
🌦 Weather information
Get weather information, and much more, from the app. Download it for free!
🚕 How to get there?
Get routes information (by car, walking, public transport, etc), and much more, from the app. Download it for free!