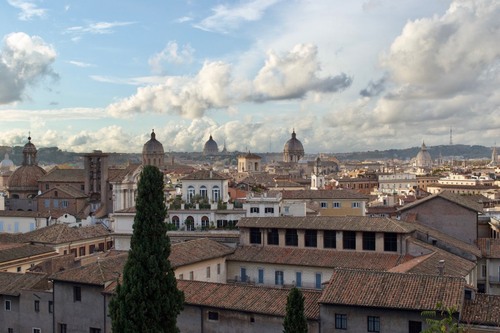 Rome is a spectacular city of ancient history, vibrant culture and renowned art. A walk through the streets of Rome will have you dropping your jaw at the marvelous sights, from the Colosseum to St. Peter's Basilica. The city also offers some of the best food in the world.

The Terrazza Caffarelli is located in the heart of Rome, offering sweeping views across the city from Guida Park. Accessed by a staircase from the Campidoglio situated on the Capitoline Hill, the entrance to the terrace is framed by the Palazzo Senatorio. The viewpoint provides great vantage points of other sites, including the iconic St Peter's dome, the Pantheon, and the multiple domes of the German Church of San Bartolomeo. Visitors can also get an amazing view of the ruins at the Imperial Forums. Known to be one of the best panoramic spots in the city, Terrazza Caffarelli is definitely a must-see, even after sunset, as the buildings are all illuminated and the moonlight reflects off of the Roman monuments.
🌦 Weather information
Get weather information, and much more, from the app. Download it for free!
🚕 How to get there?
Get routes information (by car, walking, public transport, etc), and much more, from the app. Download it for free!