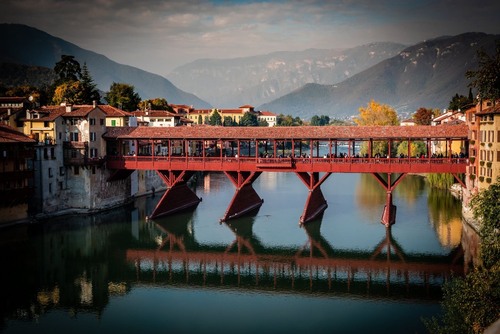 TOP
Ponte Vecchio, or Ponte degli Alpini, is one of the most iconic bridges in Italy, located in the historic town of Bassano del Grappa, in the Veneto region. The bridge, built in 1569, is a unique and extraordinary example of Renaissance art, with its three stone arches and its central span, over 70 metres in length. The bridge is decorated with exquisite frescoes and sculptures, which reflect the history and tradition of the area. As you walk across the bridge, you can admire the beautiful views of the Grappa mountains and the Brenta River valley below. There is also a square at the end of the bridge, with a monument dedicated to the Alpini, the elite troops of the Italian army, who fought in World War I. Nearby attractions include the Cathedral of San Lorenzo and the Bassano del Grappa Historical Museum.
🌦 Weather information
Get weather information, and much more, from the app. Download it for free!
🚕 How to get there?
Get routes information (by car, walking, public transport, etc), and much more, from the app. Download it for free!