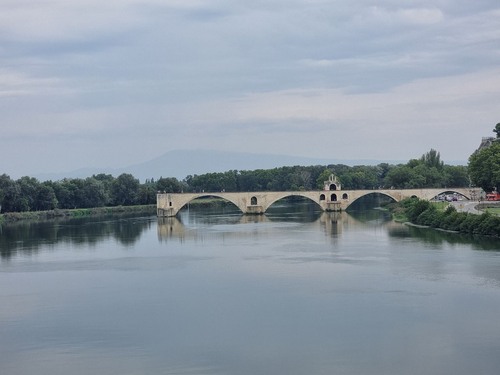 The Pont d'Avignon, also known as the Pont Saint-Bénézet, is an iconic Medieval bridge located in Avignon, France. The bridge was constructed and dismantled starting in the 12th century, with the first bridge having 4 arches and the final bridge spanning 8 arches, before being cut down to 4 in the 18th century. While four of the arches remain, the fifth arch lies submerged in the Rhone. The bridge is now a UNESCO World Heritage Site, and provides outstanding views of the Rhone and of both the Rocher des Doms and Avignon Palais des Papes. The bridge also contains a chapel dedicated to Saint Nicholas, and was the only land entry to Avignon during the Middle Ages. The Pont d'Avignon can be easily accessed by city bus, local train, car, or by foot.
🌦 Weather information
Get weather information, and much more, from the app. Download it for free!
🚕 How to get there?
Get routes information (by car, walking, public transport, etc), and much more, from the app. Download it for free!