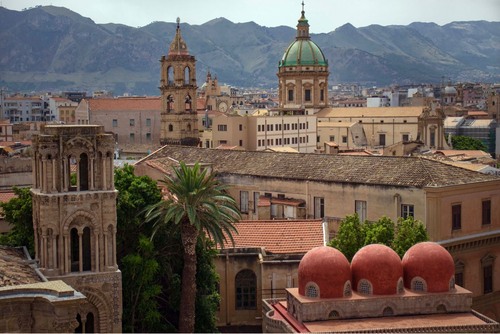 Palermo and Monastero di Santa Caterina offer a unique blend of art, culture, natural beauty and history. Located in Palermo, Sicily, this ancient city is home to an array of Baroque and Baroque-Renaissance architecture, with influences from the Middle East, Africa and Europe. From the buzzing streets of Via Libertà, to the breathtakingly beautiful Palatine Chapel, it's easy to feel the history and culture of Palermo. Monastero di Santa Caterina is located on the edge of town and dates from the late 17th century. Its typical Sicilian baroque architecture, which blends Arab and Norman elements, is something to behold. The frescoed chapel of Santa Caterina is a must-see, with its luminous murals, illuminated by hidden chandeliers. The highlight of Palermo may be the spectacular Palazzo Steri - the former prison and residence of the Sicilian Viceroy. It is decorated with beautiful art, frescos, and murals and boasts stunning views of the Gulf of Palermo from its courtyards. There's something to be said for the beauty of Palermo and Monastero di Santa Caterina that must be experienced to be believed.
🌦 Weather information
Get weather information, and much more, from the app. Download it for free!
🚕 How to get there?
Get routes information (by car, walking, public transport, etc), and much more, from the app. Download it for free!