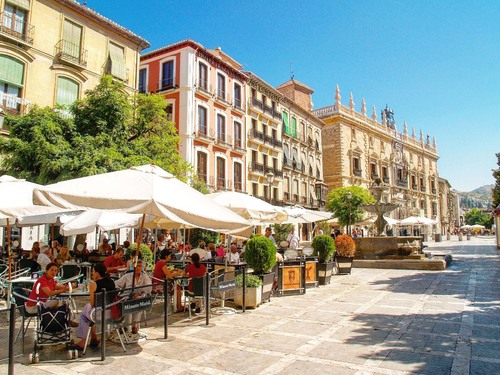 The Palacio de la Real Chancillería, located in Granada, Spain, is an impressive example of the 16th-century plateresque style of architecture. Formerly the Royal Chancellery, built in 1513 by Pedro de Castañeda, it is now home to the Royal Court. It stands proudly in the bustling city center, overlooking the Grenadian Cathedral and the Sierra Nevada mountain range. Inside the building are two large courtyards, which feature beautiful Moorish-style wall decorations. In addition, the palace boasts a fabulous collection of art from the 16th-19th centuries, including works by El Greco and Rubens. Today, the Palacio still plays an important role as Granada's highest court, but it also serves as a popular tourist attraction. Visitors can explore the breathtaking architecture and tranquil gardens, or take part in one of the guided tours available.
🌦 Weather information
Get weather information, and much more, from the app. Download it for free!
🚕 How to get there?
Get routes information (by car, walking, public transport, etc), and much more, from the app. Download it for free!